Note: Preservation Updates are a regularly occurring series of posts where I round up recent information on historic LDS buildings and their futures. Depending on the age of the post, there may be newer information available. Click here to see all Preservation Updates.
The Herald Journal
is reporting
that the Family History Center in the basement of the Logan Tabernacle is being renovated. The renovation includes "new artwork, carpet and paint colors...the entryway will be redesigned, [and] a sitting area and study area will be added, as well as a family room."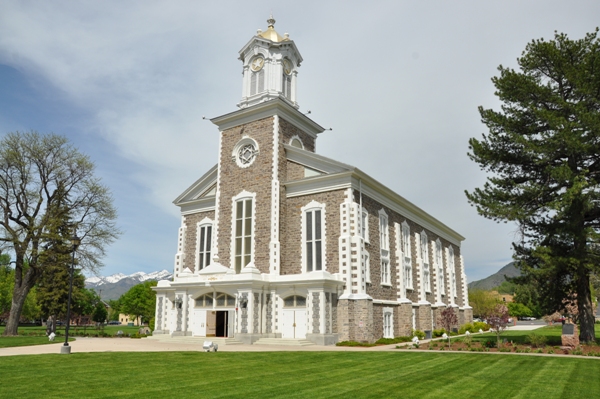 For those unfamiliar with the Logan Tabernacle, the main and second floors contain the assembly hall, and are generally well-preserved.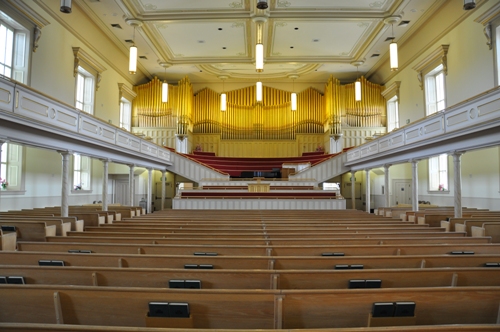 The basement contains the family history center and a baptismal font. When I visited this tabernacle, the basement looked fairly modernized and little, if any, historical elements remaining. The Logan Tabernacle was dedicated in 1891.
***
Scott Haskins runs a
Facebook page
covering his restoration of art, which sometimes includes LDS art. Recently, he's reported that he's restored this mural in the Manti Temple (it looks to me like it's in the baptistry, but I can't be certain):
And last month, they worked on the mural "The Final Judgment," which is recognized among most LDS communities. The original is located in the Washington D.C. Temple (and, even though most copies don't show it, the mural shows that temple on the left side).
He also posted back in February that he was working on the murals in the St. George Temple and that "more extensive work is scheduled for 5 years." If his sources are correct and plans don't change, then we'd know that the Idaho Falls Temple will be renovated from 2015-16, and the St. George Temple will be renovated beginning in 2019 or so. I hope these renovations keep (and restore) original elements.
UPDATE: This
news article
has a Church representative saying that nothing has been announced about a remodel of the Idaho Falls Temple (apparently speculation is rampant). However, he doesn't deny it either--he just reiterates that nothing has been announced, and that if it were to happen, it would come from the First Presidency. We'll have to see what happens.
***
This last point isn't related to historic architecture or preservation at all, but I thought it was cool--the Church held some sort of conference regarding the temple under construction in
Rome
, and in the background you can see what I assume are the designs of the temple interior--which apparently includes a really cool, open-centered spiral staircase.
It will be exciting to see how the Rome Temple turns out when it is completed.